CHIA's DANCE PARTY RETURNS!
I am over the moon to announce the return of my beloved CHIA's DANCE PARTY. After 5 years of being dormant, due to other musical commitments, I am now able to say that CHIA will be performing regularly again and that I will make time to write new music for it. YES!!!!
CHIA's Dance Party: Martin Vejarano's Brass Quintet delivers a unique musical experience where infectious danceable grooves mix harmoniously with extensive compositional and improvisational work. The band performs original material, inspired by the Colombian marching band traditions, as well as some tropical standards that would lift you up. The music is fun, driven and adventurous. 
CHIA'S Dance Party
After I got my degree in Jazz Performance, and while going through an artistic and existential crisis, I met my friend and Tuba player extraordinaire, Ben Stapp, in Washington Sq. Park in New York. I invited him to jam, and we played for a couple of hours. Suddenly, I started hearing a new sound in my head. A few days later, I began writing music for a new ensemble featuring tuba, saxophones, euphonium, and drums. This marked the beginning of one of the most intense creative catharses of my career. We recorded two albums and played hundreds of concerts.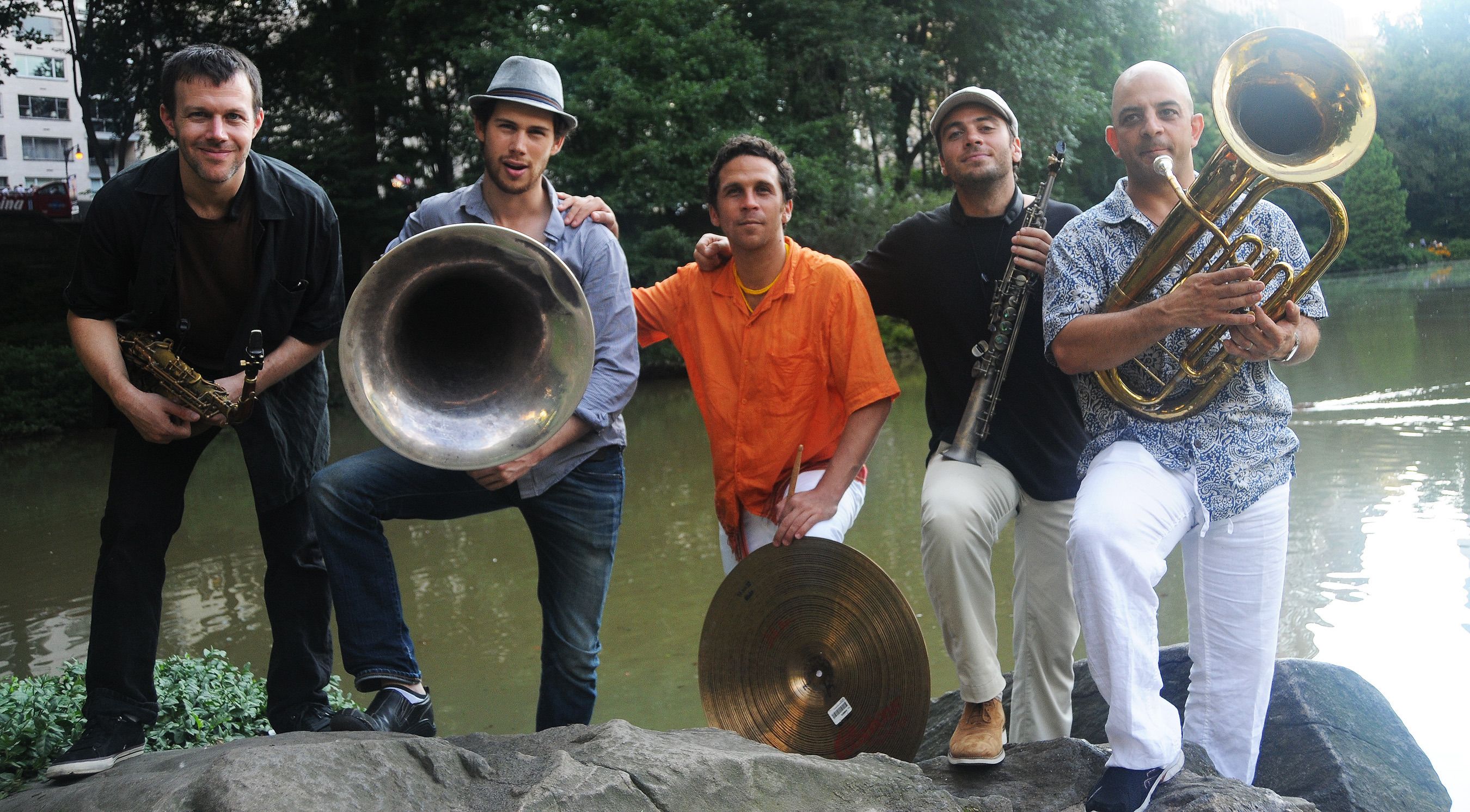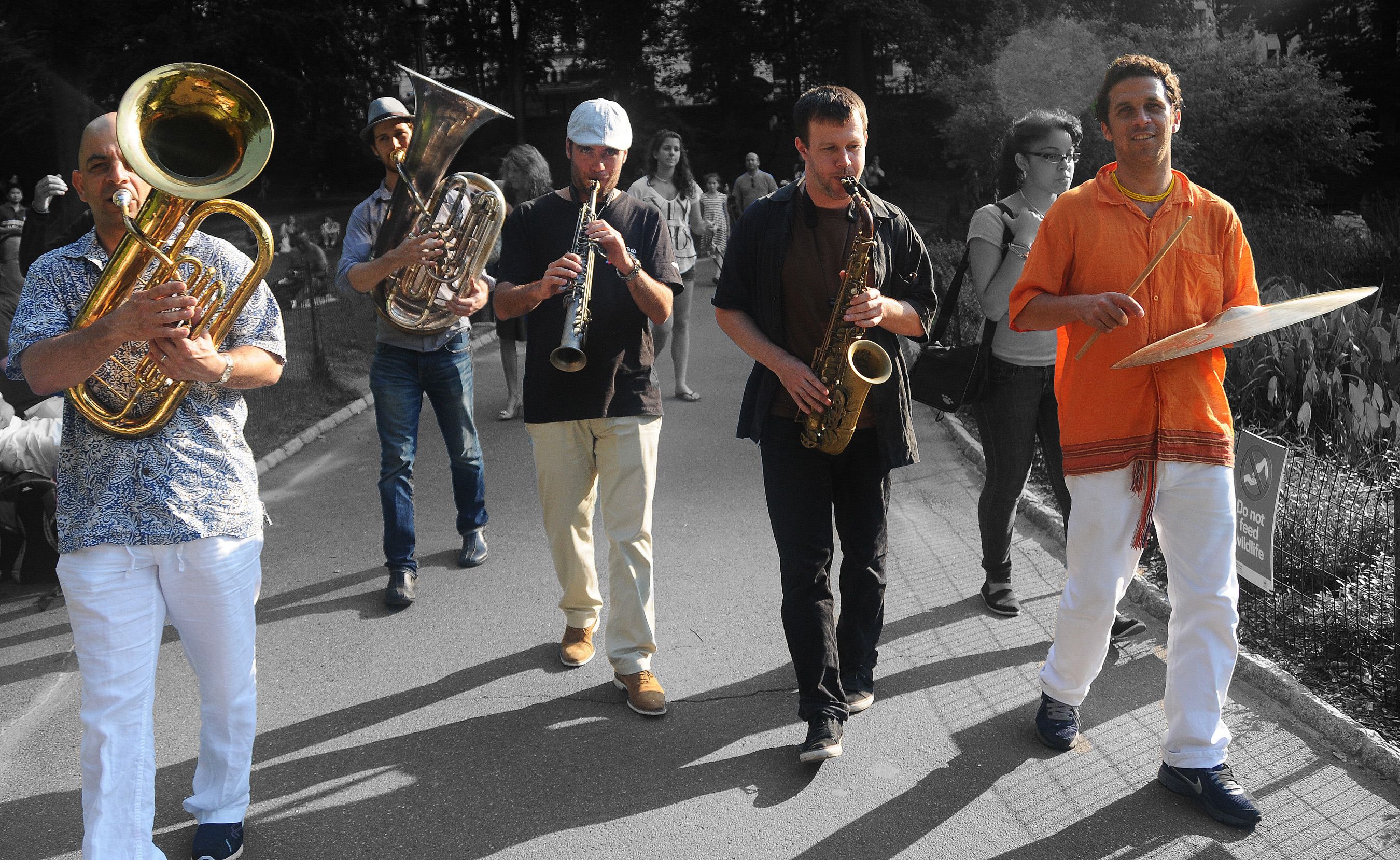 Live at Jazz Al Parque Festival (Bogotá Colombia)
CHIA's DANCE PARTY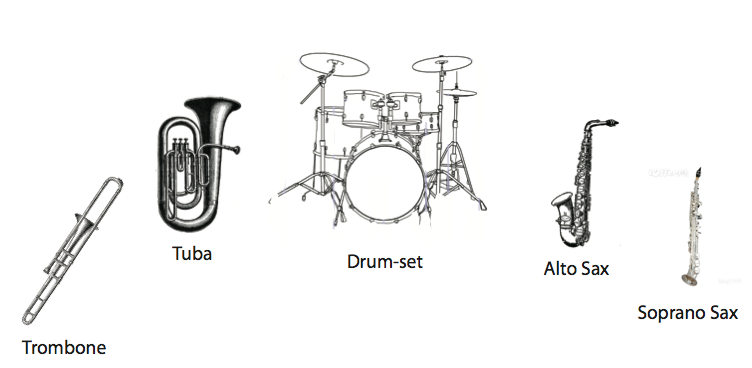 CHIA's Dance Party is a New York City-based Quintet. The band delivers a unique musical experience where infectious danceable grooves mix harmoniously with extensive compositional and improvisational work. The band performs original material inspired by the Colombian rhythmic and melodic traditions, yet explores different genres and compositional approaches. CHIA's Dance Party has a distinct sound as a result of the diverse background of its musicians. Ben Stapp, an exceptional tuba player brings his vast experience in experimental, Jazz, classical and rock music.

2014 NEW RELEASE, MANGO is OUT!!!  In 2012 CHIA's Dance Party will be honored to perform at the Encuentro Nacional de Bandas, Sincelejo Colombia as a special guest. 2011 CHIA's Dance Party released its debut album La Miel under the self-run label Chia Records, was invited to perform at the Festival Jazz al Parque in Colombia in, ran a month-long residency in August at the renown Brooklyn Club Barbès as well as a monthly appearance at Terraza Café . November 29th 2010 the band had the privileged of being selected as the "House Band" for the annual Winter's Eve at Lincoln Square performing for over 4 hours and appearing in National Television. In only a matter of months, CHIA's Dance Party has become one of the most popular and admired "brass bands" of the New York City's World Jazz scene. ENJOY!!!
FRENCH
Chia's Dance Party est une expérience unique, une fusion harmonieuse entre compositions sophistiquées, rythmes traditionels colombiens et improvisations audacieuses. Les deux saxophones, le tuba et le bombardino, orchestrés et dirigés par le batteur et percussioniste revisitent de manière originale les musiques Pelayera et Chirimia Chocoana de Colombie, teintées de sonorités joyeuses proches du Second Line de La Nouvelle-Orleans ou des fanfares originaires des Balkans.
La musique de Chia's Dance Party, à la fois éclectique et universelle, est le fruit de la rencontre à New York de cinq musiciens hors normes venus d'horizons variés et aux influences multiples – rock, jazz, musique du monde et musique classique notamment. Ces excellents instrumentistes nourrissent le groupe de leurs influences respectives et lui donnent une sonorité unique, mélant de facon tout aussi surprenante que naturelle les aspirations intellectuelles propres à la musique d'avant-garde avec un esprit festif et dansant.
 
Nosotros - Español
CHIA's Dance Party es un Quinteto liderado por el percusionista y compositor Colombiano Martín Vejarano. Con Tuba, Bombardino, Saxofones y Batería la banda presenta una experiencia musical única donde los ritmos endémicos de Colombia se mezclan armoniosamente con diversos conceptos de improvisación y un trabajo de composición altamente elaborado. CHIA's Dance Party recrea los sonidos de lo que en Colombia se conoce como música Pelayera y/o Chirimía Chocoana, o lo que en los Estados Unidos se conoce como New Orleans "Second Line" y en Europa Oriental como música Balcánica. Este sonido ecléctico y universal encuentra en la diversidad de los músicos de CHIA's Dance Party su mejor aliado. Nacidos en diferentes partes del mundo, radicados en Nueva York y con influencias como el rock, las músicas del mundo, el jazz, y la música clásica, estos excelentes instrumentistas le dan a la banda un sonido especial donde la música bailable va de la mano con las más intricadas inquietudes intelectuales propias de los artistas de vanguardia.